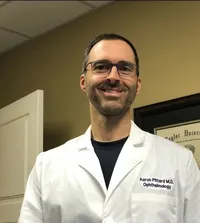 Dr. Aaron Pittard grew up in Amarillo Texas where he graduated from Amarillo High School. He received his undergraduate degree with honors from Baylor University. While at Baylor he was elected into the Phi Beta Kappa national honor society. His medical training began at the University of Texas Southwestern Medical School in Dallas. Following a general medicine internship at St. Paul University Hospitals in Dallas he completed a research fellowship at Duke University Eye Center. He completed his ophthalmology residency in 2006 at Penn State University Medical Center, serving as chief resident in his final year. Dr. Pittard has been in practice in San Antonio since 2006.
Dr. Pittard is a Board Certified Ophthalmologist with an emphasis on cataract surgery, glaucoma, diabetic eye care, and ocular infection and inflammation.
Memberships:
American Academy of Ophthalmology
Texas Medical Assocation
Texas Ophthalmology Assocation
Bexar County Medical Society
Outside the office Dr. Pittard enjoys playing the guitar, spending time with his family traveling and snow skiing. He is a frequent volunteer for surgical mission work in Mexico.